ATV TGB BLADE 600 LT EPS EFI 4X4 L7E EU4
Tootekood:
TGBFBHHDLE-EPS-BRO606
Mootor:
4-taktiline, 1-silindriline, Vedelik+õlijahutus, SOHC
Mootori võimsus (kw/rpm):
31.4 kW / 7000 / min (off-road)
Max.Pöördemoment (Nm/min):
53.6 Nm / 5500 / min (off-road)
Gabariidid L*W*H (mm):
2280*1250*1420
Kütusesüsteem:
EFI - elektrooniline sissepritse
Mootori käivitamine:
Elektriline
Esi- ja tagapidurid:
Ees: 2*Ketas Taga: 2*Ketas
Käigukast:
L-aeglane, H-kiire, N-neutraal, R-tagurpidi P-Mootorparkimine CVT
Rehvi mõõt:
Ees: AT25 x 8 - 12 kergalumiiniumvelgedel / Taga: AT25 x 10-12 kergalumiiniumvelgedel
Ülekanne:
Kardaan 2WD/4WD elektriliselt lülitatav, esi- ja tagadiferentsiaalilukustiga
Vedrustus:
Ees ja taga sõltumatu A-liigenditel EVO õliamordid + viie astmeline vedrude eelpinguti
The popular extended Blade now with the
TGB Blade electric power steering has earned its reputation for a powerful, durable, reliable and rugged quad bike that can handle even bumpy handling. The commercial-pleasure blade 600i SE LT EPS is equipped with advanced technology, extensive equipment, extended chassis and also an efficient power steering with three modes. A powerful 600 cc engine impresses you with high traction and impressive acceleration. The well-equipped quad bike boasts extraordinary dexterity, pleasant driving, solid construction and great price, quality and utility value. Wide gauge and independent suspension of all high-altitude IRS wheels give the four-wheeler high stability and high terrain penetration, the extended chassis offers more space and a safer ride in the hills while maintaining the high maneuverability and ease of handling of short models.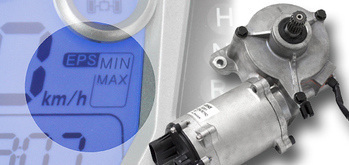 Electric power steering with three modes
The electric power steering reduces steering power, not even a long ride or all-day work will make you tired. The power steering also improves the control of the quad bike and the safety of the ride, as it also acts as a shock absorber and impact on the handlebars, for example, when the front wheel encounters a hidden stone, hole or stump. The impact will not put your handlebars out of your hand because most of the energy of the shock absorbs the booster. The power steering is equipped with three optional modes for this model - standard effect / maximum effect / off.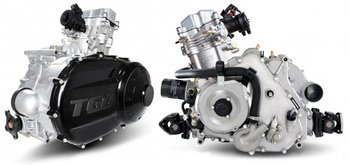 Strong engine 600 cc
More power, more work, more fun. Reliable four-stroke 600 cc engine features a state-of-the-art four-valve technology, combined liquid and oil cooling with two separate chillers and electronic fuel injection EFI. Siemens Injection ensures high performance, high traction, higher torque, reliable summer and winter start-up, reduced emissions and low fuel consumption.
Robust extended chassis
Optimized chassis geometry, wide gauge and cushioned suspension give the quads precise steering, easy handling and high stability. Excellent terrain penetration is provided by the independent, high-altitude independent IRS all-wheel suspension, in addition to heavy terrain, an electrically-connectable 2x4 / 4x4 drive and a fast-acting electric front differential lock.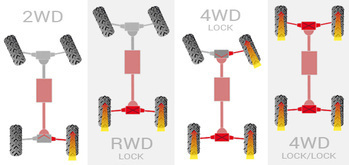 4x4 drive with two differentials (L7e)
The 600i SE LT EPS is equipped with a sophisticated two-differential drive system in the L7e version. In heavy terrain, you will appreciate the ability to quickly lock the front or both differentials at once. This makes the Blade 600i very easy to use, with the ability to configure the drive for every terrain and every situation. On the one hand, it provides perfect traction and excellent passage through heavy terrain, on the other hand it provides a quiet ride and an amazingly pleasant driving. The electrically-connectable 2x4 / 4x4 front wheel drive, as well as a modern, independent all-round iRS suspension with a wide gauge and high altitude.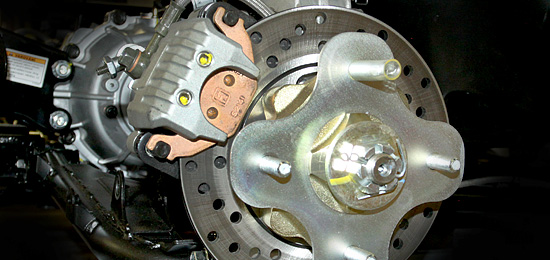 Powerful disc brakes
Effective hydraulic disc brakes with bored discs and great braking performance give you confidence when driving downhill, working with a heavy trailer or moving your driving limits. Armored brake hoses allow for sensitive dosing and precise braking control.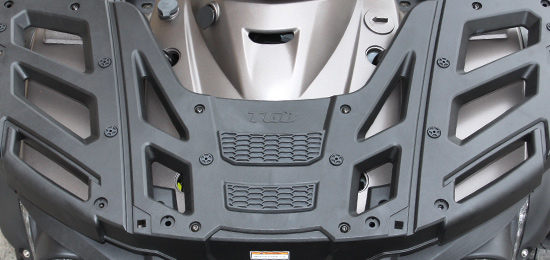 Large luggage carriers
Modern carriers made from high quality plastics have a high load capacity, excellent scratch resistance, unlike steel carriers, they are not corroding and are still good for years.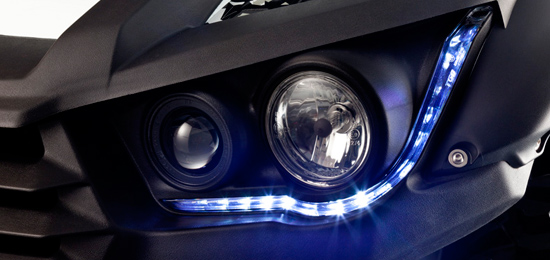 Modern LED lighting
Attractive LED daytime running lights take a first look. Together with dual rear LED lights and LED blinkers, the TGB Blade 600 is now even more mature and more appealing. And when the sun sets, powerful double-headlights will always help you find your way home.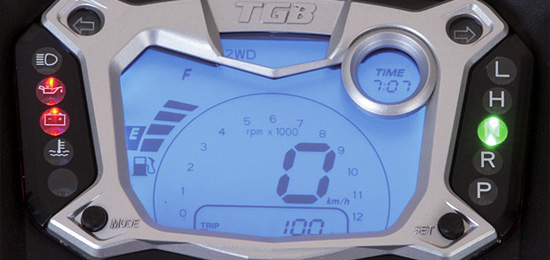 Multifunction LCD display
Get accurate information whenever you need it. The modern multifunctional LCD display is not only easy to read but also beautiful, and offers plenty of features like a digital tachometer, digital speedometer, maximum engine speed, maximum speed, average speed, 2 daytime running time counters, total distance meter, hourly hours, total hourly hour meter, fuel gauge, on-board clock and all necessary indicators.
Rich gear
There are not many quads on the market that offer even the most attractive standard equipment such as the TGB Blade 600i LT EPS: front differential front electric lock, 2x4 / 4x4 electric power switch , three-mode electric power steering, armored brake hoses, attractive 8-spoke aluminum discs, branded 25 "tires, hand and lever protectors, massive front bumper, front and rear luggage rack, separate passenger seat with handles and backrest, homologated towing equipment and a reliable 3000lbs pulling power.
Hind:
-5%
Sulge
Järelmaksu kalkulaator
Sinu kuumakse
€
Krediidi kulukuse määr
%
Tulemus on ligikaudne ja võib erineda sulle pakutavatest tingimustest.
Arvuta järelmaks
Seotud tooted: