ATV TGB BLADE 600 LTX, LED, EU4 L7e
Tootekood:
T-B600-LTX-E4-BLK
Mootor:
4-taktiline, 1-silindriline, Vedelik+õlijahutus, SOHC
Mootori võimsus (kw/rpm):
31.4 kW / 7000 / min (off-road)
Max.Pöördemoment (Nm/min):
53.6 Nm / 5500 / min (off-road)
Gabariidid L*W*H (mm):
2280*1250*1420
Kütusesüsteem:
EFI - elektrooniline sissepritse
Mootori käivitamine:
Elektriline
Esi- ja tagapidurid:
Ees: 2x ketas Taga: 2*Ketas
Käigukast:
L-aeglane, H-kiire, N-neutraal, R-tagurpidi P-Mootorparkimine CVT
Rehvi mõõt:
Ees: AT25 x 8 - 12 kergalumiiniumvelgedel / Taga: AT25 x 10-12 kergalumiiniumvelgedel
Ülekanne:
Kardaan 2WD/4WD elektriliselt lülitatav, esi- ja tagadiferentsiaalilukustiga
Vedrustus:
Ees ja taga sõltumatu A-liigenditel EVO õliamordid + viie astmeline vedrude eelpinguti
Favorite Blade with a new 600 cc engine!
The TGB Blade 550 has gained the reputation of being a powerful, durable, reliable and rugged commercial-pleasure quad bike that can handle even mishandling. Now, however, the successor to the Blade 600 comes with a more powerful engine and a more manageable and stable chassis, equipped with advanced technology and full equipment. The biggest draw is undoubtedly a brand new powerful 600cc engine with high traction and impressive acceleration. The independent independent IRS all-wheel suspension, high clearance and wide gauge give the quad bike perfect stability and top-of-the-range permeability. The well-equipped quad bike also excels with exceptional dexterity, easy and pleasant driving, and a great price, quality and utility value ratio.
New 600 cc engine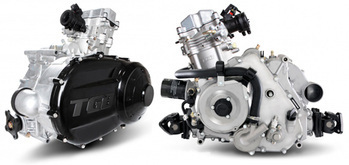 More power, more work and more fun. The biggest benefit of the new model is without doubt a completely new 600 cc liquid-cooled engine, to which TGB engineers have introduced a number of state-of-the-art technologies, including a new four-valve head, combined liquid and oil cooling with two separate coolers, or Siemens electronic fuel injection, power and torque at every turn, reliable starting in summer and winter, reduced emissions and low fuel consumption.
Reworked chassis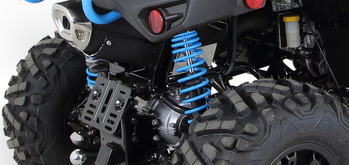 Changed chassis geometry, new front-wheel suspension, revised steering geometry and new shock absorber settings give the four-wheel steering precision steering, playful handling and significantly improved stability in heavy terrain and sporty driving. Excellent terrain penetration allows for independent independent suspension of all wide-gauge IRS wheels and high clearance height. In heavy terrain, you can also appreciate the 2x4 / 4x4 electrically-connectable front wheel drive, and you can electrically lock the fast-acting front differential lock.
Modern LED lighting
Attractive LED daytime running lights will take everyone at first glance. Together with double rear LED lights and LED blinkers, the TGB Blade 600 is even more mature and even more appealing. And when the sun sets, powerful projector headlights will always help you find your way home.
Powerful disc brakes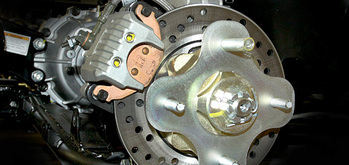 An efficient three-wheeled hydraulic braking system with bored discs and great braking performance will give you confidence and confidence in hard work, heavy-duty trailer or shifting your riding limits. Brakes with armored tubing allow for sensitive dosing and perfect control of the braking effect.
Multifunction LCD display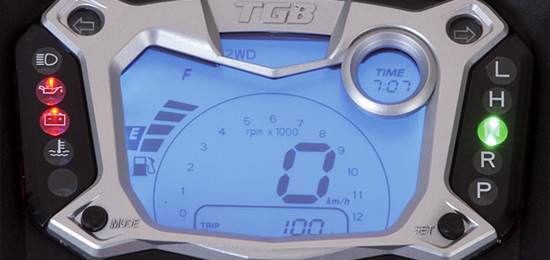 Get accurate information whenever you need it. The modern multifunctional LCD display is not only legible but also beautiful, and offers a wealth of features such as a digital tachometer, digital speedometer, maximum engine speed, maximum speed, average speed, 2 daytime running time counters, total distance meter, , the total hourly hour meter, the fuel gauge, the on-board clock, and all the necessary indicators.
Top equipment
There are not many ATVs on offer at such an attractive base price yet as rich in standard equipment as the TGB Blade 600i: electric front differential lock, 2x4 / 4x4 electric drive switching, armored brake hoses, attractive 8-spoke aluminum discs, branded 25 "tires , hand and levers, massive front bumper, front and rear luggage rack, homologated towing equipment and a reliable winch with a pulling force of 3000lbs.
Hind:
8200.00 €
Sulge
Järelmaksu kalkulaator
Sinu kuumakse
€
Krediidi kulukuse määr
%
Tulemus on ligikaudne ja võib erineda sulle pakutavatest tingimustest.
Arvuta järelmaks
Seotud tooted: