ATV ACCESS MOTOR 800i 4x4 T3B
Mootor:
4-taktiline, 1-silindriline, SOHC, 4 klappi, EFI
Mootori võimsus (kw/rpm):
43 kW (off road)
Gabariidid L*W*H (mm):
2250*1200*1252
Kütusesüsteem:
EFI - sissepritse
Mootori käivitamine:
Elektriline
Esi- ja tagapidurid:
E: 2x hüdrauliline ketaspidur T: 2x hüdrauliline ketaspidur
Käigukast:
Automaatne CVT, tagurpidikäiguga (L / H / N / R)
Rehvi mõõt:
E: AT 26 x 8 - 14 T: AT 26 x 8 - 14
Ülekanne:
Kardaan 2WD/4WD elektriliselt lülitatav
Vedrustus:
E: Hüdrauliline amort, 5-astmelised eelpingutusega vedrud T: Hüdrauliline amort, 5-astmelised eelpingutusega vedrud
The Access flagship comes with state-of-the-art technology and one of the most powerful engines in the class. Add to it a pleasing design with large-headlights, advanced technology, high practicality and reliability, and you'll get one of the most attractive offers on the market. The chassis responds precisely to driving controls, the ride is very comfortable and comfortable. The electrically switchable 2x4 / 4x4 drive with front differential lock responds to every terrain challenge. Rich features include attractive 14 "alloy wheels, modern LED lighting, towing equipment, a 2500lbs reel, and robust luggage carriers at the front and rear
THE STRONGES ENGINE IN ITS CLASS
​
The MAX 800 EFI engine is not only the most powerful Access Engine, but also one of the most powerful single-cylinder cars in its class. The outstanding four-stroke 781cc single cylinder has more than enough power, massive torque and high pulling power. The balancing shaft reliably eliminates unpleasant vibration and gives the engine a highly cultivated run. Optimum blend composition, low emissions and reliable start-up even at low temperatures are provided by Bosch's advanced electronic fuel injection system.
2WD / 4WD DRIVE WITH DIFFERENTIAL LOCK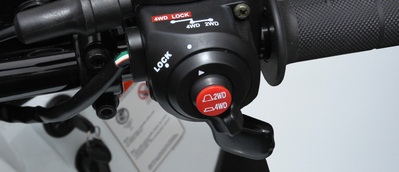 The electrically switchable 2x4 / 4x4 drive with the electrically-operated front differential lock will get you out of any shambles. Optimum power transmission is provided by the automatic two-speed reverse gearbox, engine brake and centrifugal clutch, which significantly prolongs the life of the belt. At the same time, the gear unit ensures an optimally tensioned drive belt and minimizes wear.
PLEASANT CHASSIS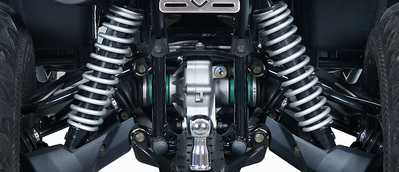 Easy handling, high dexterity and amazing terrain throughput - Accesso Max 800 EFI chassis is one of the best four-wheeled chassis ever. The lightweight and robust low-weight, low-center center of gravity, playful dexterity and a small turning radius give the four-wheeler excellent driving performance. All wheels are independently suspended in double trapezoidal arms with large suspension strokes; comfort-adjusted suspension is five-way adjustable.
DISC BRAKES ON ALL WHEELS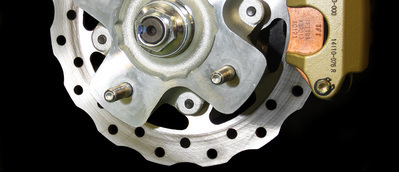 Four large brake discs with shaped "wave" discs provide effective, convincing and accurately braking performance. Together with armored hoses, the brakes ensure reliable braking in every situation. When driving downhill, you also have an effective motor brake.
MULTIFUNCTION LCD DISPLAY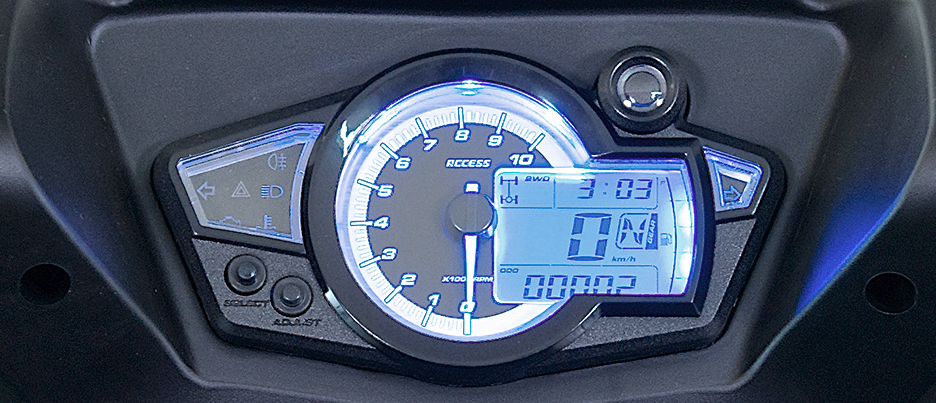 The state-of-the-art multifunctional LCD display provides all the information you need. The display includes a digital speedometer, analogue tachometer, on-board clock, total and daily mileage, hourly counter, EFI indicator, speed limiter indicator, 2WD / 4WD drive indicator, differential lock indicator, fuel gauge and indicator lights.
MODERN LIGHTNING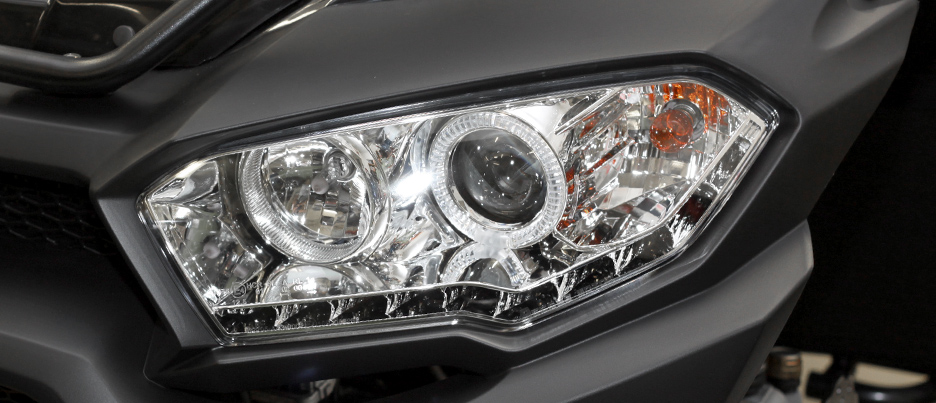 Large-area headlamps can transform the night in the day. With dual projector lenses and LED daytime running lights, these modern lights are both effective, practical and attractive. And rear flasher / brake lights with advanced LED technology have minimum power and at the same time a high luminance increasing your visibility and safety.
Hind:
-4%
Sulge
Järelmaksu kalkulaator
Sinu kuumakse
€
Krediidi kulukuse määr
%
Tulemus on ligikaudne ja võib erineda sulle pakutavatest tingimustest.
Arvuta järelmaks