ATV ACCESS MOTOR MAX 650i LT L7E
Mootor:
4-taktiline 1-silindriline, SOHC, EFI
Mootori võimsus (kw/rpm):
32,6 kW (off road)
Gabariidid L*W*H (mm):
2250*1200*1495
Kütusesüsteem:
EFI Sissepritse
Mootori käivitamine:
Elektriline CDI
Esi- ja tagapidurid:
E: 2* Ketas, T: 2* Ketas
Käigukast:
L-aeglane, H-kiire, N-neutraal, R-tagurpidi (Mootorpidurdusega käigukast)
Rehvi mõõt:
E:25*8-12 Kergalumiinium; T:25*10-12 Kergalumiinium
Ülekanne:
Kardaan 2WD/4WD elektriliselt lülitatav, kahe differentsiaaliga
Vedrustus:
E: Hüdrauliline amort, 5-astmelised eelpingutusega vedrud T: Sõltumatu A-arm vedrustus koos põiksuunalise stabilisaatoriga.
If your priority is practicality and the best value for money, Access MAX 650i LT FOREST 4x4 is your clear favorite. With an extended wheelbase, electrically switchable 2x4 / 4x4 drive and two differentials, it can handle every terrain while delivering easy driving and exceptionally enjoyable ride. The cost-effective design of one of the most popular work-and-go ATVs on the market with driving features, modern design and production quality can boldly compare to similar models of renowned brands.
RELIABLE SINGLE-CYLINDER ENGINE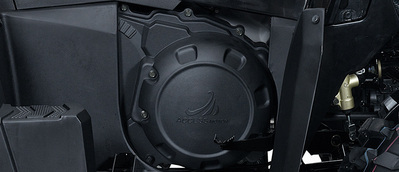 The liquid-cooled four-stroke single-cylinder has sufficient power and high torque. Electronic fuel injection Bosch ensures optimum composition and easy starting even at low temperatures. The cylinder is provided with a special ceramic coating that improves cooling and reduces wear on the cylinder. The forged piston has higher strength and increased heat resistance. The balancing shaft greatly reduces vibrations, while the flexibility of the ride also contributes to the elasticity of the engine and a comfortable electric
4x4 DRIVE WITH TWO DIFFERENTIALS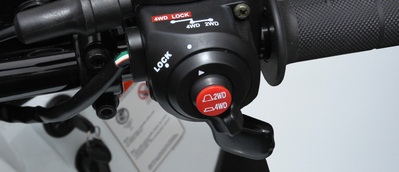 The electrically switchable 2x4 / 4x4 drive is complemented by two differentials, one on the front and the other on the rear axle. This technically the most sophisticated solution makes it easy to handle all terrain situations and also provides very easy steering and virtually velvet ride along the plane and curves. Optimum power transmission is ensured by a reliable automatic two-speed CVT gearbox with a reverse gear, a motor brake and a centrifugal clutch.
EXTENDED CHASSIS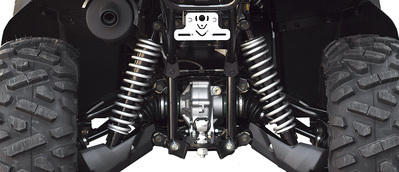 The LT version offers even more passenger space on a separate raised seat and more space for the driver to control the quad. The extended chassis also provides greater security in steep slopes while retaining the superb handling of short models. In the field you will also appreciate the small turning radius, large clear height, high suspension strokes and comfortably set suspension of independently suspended wheels with five-position adjustable suspension.
DISC BRAKES ON ALL WHEELS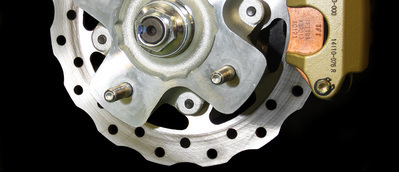 The efficient braking system with disc brakes on all wheels with shaped discs and armored hoses ensures a strong, convincing and precisely measurable braking effect. When hiking the hills, you will also be helped by an efficient engine brake.
MODERN LIGHTNING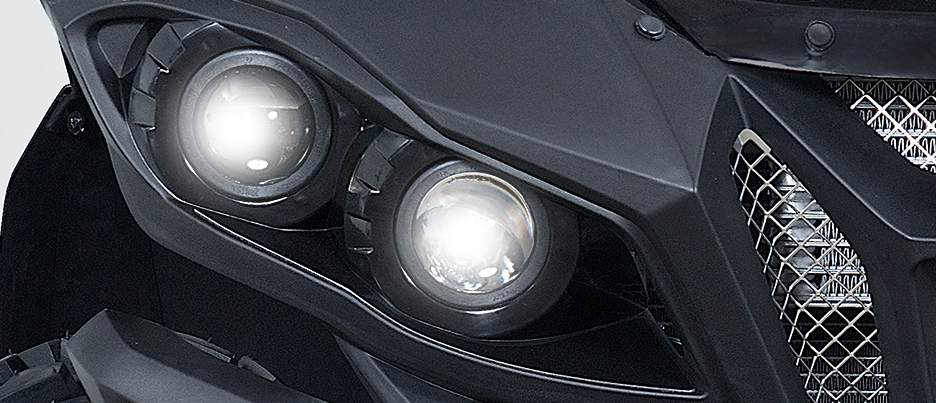 Dual front lights feature powerful projector lenses. Blinkers and rear / brake lights with advanced LED technology have minimal power consumption and high luminance to increase visibility and safety.
MULTIFUNCTION LCD DISPLAY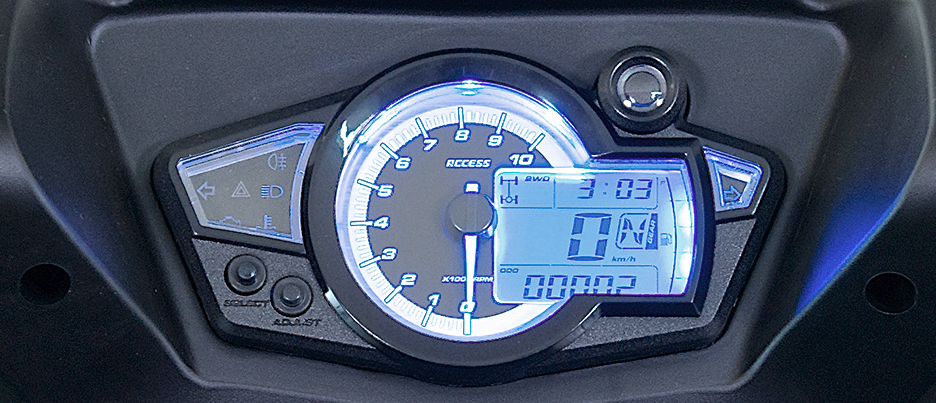 The modern, all-in-one LCD display provides all the necessary information: digital speedometer, analogue tachometer, clock, total and daily mileage meter, hourly counter, EFI indicator, speed limiter warning light, 2WD / 4WD drive indicator, differential lock indicator, fuel gauge and indicator lights
Hind:
-4%
Sulge
Järelmaksu kalkulaator
Sinu kuumakse
€
Krediidi kulukuse määr
%
Tulemus on ligikaudne ja võib erineda sulle pakutavatest tingimustest.
Arvuta järelmaks